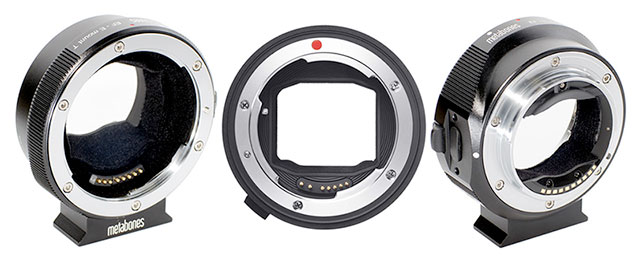 Here's a round-up of Auto Focus Canon EF Smart Adapters and Manual Focus Canon EF lens adapters for Sony E-mount mirrorless cameras including Sony a7, a7R, a7S, a7 II, a7R II, a7S II, a7 III, a7R III, a9, Sony a5000, a5100, a6000, a6300, a6400, a6500 and Sony NEX mirrorless cameras.
Auto Focus Canon EF Lens Smart Adapters
Fastest AF is achieved using a7 II, a7R II, a7 III, a7R III, a9, a6300, a6400, a6500 which allow PDAF AF-C and AF-S with third-party lenses in still photography mode.
Other Sony mirrorless bodes offer slowish AF-S at best with Canon EF and EF-S lenses making them too slow for sports action – but they work fine for portraits and landscape still photography.
Video AF is only possible using the advanced mode on Metabones Smart Adapters and Sigma MC-11.
Two AutoFocus Canon EF and EF-S lens Smart Adapters stand out above the rest.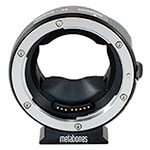 Metabones Canon EF to Sony E-Mount T Smart Adapter V ($399)
Metabones is the original – and most popular – AF Smart lens adapter for Canon EOS to Sony E-mount.This is my adapter of choice as it's the only Smart Adapter that gets regular user-installable firmware updates that improve AF performance with many Canon EF lenses not supported by cheaper adapters.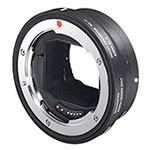 Sigma MC-11 EF Mount Converter for Sony E-mount ($249)
Enables all native AF functions including Eye AF, Lock-on AF and Video AF with Sigma EF-mount Art, Contemporary and Sport lenses on Sony E-mount mirrorless cameras. This adapter also supports auto-exposure, in-camera lens correction, in-camera image stabilization and retains full EXIF data. Interior is flocked to reduce reflections. An integrated LED can be used to display select Sigma lens compatibility with the adapted camera body. This adapter also gets user-installable firmware updates, but please note that Sigma firmware updates are aimed on improving performance of Sigma EF lenses – not Canon or other brands.
Budget Canon EF Smart Adapters
I STRONGLY recommend the first two adapters listed above, but I'm often asked for 'budget options'. Here are two options that work fairly well with most lenses – but unlike Metabones and Sigma MC-11, these adapters are NOT as consistent across the entire line of EF glass.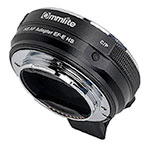 High-Speed Commlite CM-EF-E HS Lens Adapter ($159)
Commlite CM-EF-E HS lens adapter is the best of the sub-$200 Smart Adapters since it supports Phase Detection AF for faster AF. Users can switch between PDAD and Contrast AF by pressing the Focus Mode Button on the side of the adapter. Firmware update is user-upgradeable via a USB port.
Order from Amazon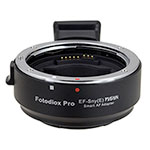 FotodioX Canon EF Lens Pro Fusion Smart AF Adapter ($100)
While it lacks Phase Detection and video AF support or user-installable firmware updates, this adapter does offer full electronic communication. With AF speed similar to the third-generation Metabones Smart Adapter III, this adapter works well with many – BUT NOT ALL – Canon EF lenses.
Yongnuo EF-E II Lens Mount Adapter ($100)
Features Two Focus Systems with focusing system selection switch, support AF focus system and Mixed-focus system, both focusing systems require camera support for normal use. Equipped with USB interface to improve product performance, supports firmware upgrade and lens data analysis.
Order from Amazon
BUYER BEWARE! There are other Canon AF Smart Adapters on the market, but I do not recommend any of them.
Manual Focus Canon EF Lens Adapters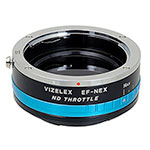 FotodioX Vizelex ND Throttle Adapter for Canon EF to Sony E Mount ($100)
This Canon EF and EF-S adapter features a built-in 10-stop variable neutral density filter to control the amount of light entering the camera. An ND filter enables shooting in bright daylight while still using wide apertures for shallow depth of field. It also helps with fast exposure adjustments when going from bright to low light. A bright blue metal ring manually adjusts the filter from ND2-ND1000 (2-stop to 10-stop) which is a very cool feature for filmmakers and still photographers who want to shoot wide open in bright light.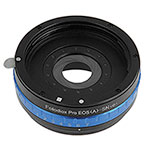 FotodioX Adapter for Canon EF to Sony E-Mount (with Iris Control) ($70)
This Fotodiox adapter allows Canon EF lenses to attach to Sony E-Mount cameras. This adapter also has a built in iris control which allows for some degree of control over the light coming in from the lens. Canon EOS lenses use an electronic aperture which will not function with an adapter, the built-in clickless iris control enables the lens to still be used with some functionality.
APS-C Speed Booster Canon EF Lens Adapters
Speed Boosters are 0.71x focal converters that reduce a full-frame image to APS-C. They're compatible with Sony APS-C mirrorless cameras like a6300, a6000, a5100, a5000 and NEX. They can also be used in APS-C or Super 35 Crop Mode with a7 Series cameras – but they will NOT cover fullframe.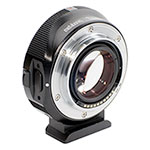 Metabones T Speed Booster Ultra 0.71x Adapter for Canon Full-Frame EF Lens to Sony E-Mount APS-C Cameras ($649) condenses the light from a lens designed for 35mm film or "full frame" camera sensors and projects it onto a Sony E-mount APS-C sensor. This allows a Sony E-mount APS-C sensor to utilize more of the light gathered by a connected lens, which effectively reduces the crop factor while making available to the sensor an additional 1 stop of light for each of the lens's f/stop settings.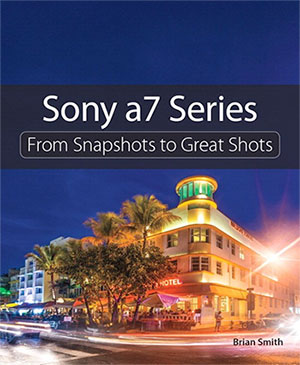 For more tips and tricks about getting the most out of your Sony a7 series camera, check out my new book 'Sony a7-Series: From Snapshots to Great Shots'.
It's your guide to all of the Sony a7 Series I & II cameras. While the camera manual explains what the camera can do, it doesn't show how to use the camera to create great images! Starting with the Top Ten things users need to know about the cameras, author Brian Smith, a Pulitzer Prize-winning photographer and Sony Artisan of Imagery, carefully guides you through the operating features of Sony a7, a7R, a7S, a7II and a7RII and how to use them. Get practical advice from a pro on which settings to use when, great shooting tips, and assignments at end of chapter to practice what you've just learned.
'Sony A7 Series: From Snapshots to Great Shot' is available NOW from Amazon and Amazon UK
Cameras | Lenses | Lens Adapters | Lighting | Modifiers | Grip | Camera Support | Bags + Cases
Computers + Tech | Still Accessories | Audio | Kits | Recommended Reading