ABOUT PHOTOGRAPHER BRIAN SMITH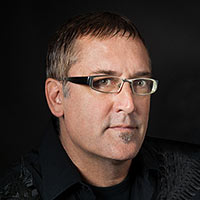 Celebrity portrait photographer Brian Smith is the luckiest guy on the planet. He won a Pulitzer Prize at 25, he's told Bill Gates exactly what to do for an entire hour, appeared on The X Factor, exhibited at the Library of Congress, dined with President Barack Obama, hung with Richard Branson on Necker Island, gotten drunk with George Clooney, shared cupcakes with Anne Hathaway and married the most beautiful woman he ever laid eyes on…
For the past 30 years, Brian Smith's iconic portraits of famous celebrities, athletes and executives have been used in advertising, by corporations and have graced the covers and pages of hundreds of magazines including Sports Illustrated, ESPN the Magazine, Time, Forbes, New York Times Magazine, Elle and British GQ.
His first magazine photograph appeared in LIFE Magazine when Smith was a 20-year-old student at the University of Missouri. Five years later, Smith won the Pulitzer Prize for Spot News Photography for his photographs of the Los Angeles Olympic Games. He was again a finalist for the Pulitzer for his photographs of Haiti in Turmoil. His photograph of Greg Louganis hitting his head on the diving board at the Seoul Olympics won first place in both World Press Photo and the Pictures of the Year competition.
Brian Smith is ready to tackle your next job no matter where it is. Contact us for your photography needs anywhere in the world. Whether you're shooting in the United States, Caribbean, Latin America, South America, Europe or any where else on the planet, hire a Miami photographer with a global reach for your next photography project.
Let us show you what we can do for your brand!