PHOTOGRAPHY GEAR GUIDE: CAMERA SUPPORT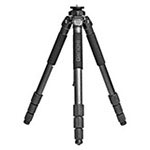 Induro Carbon Tripod CT414
This is a great all around tripod that's sturdy as a rock and the perfect combination of height, weight and price. Extends to 77″ so with the ballhead below it's tall enough to shoot standing on an apple box or short ladder.
Get the full specs at B&H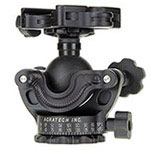 Acratech GP Ballhead
My favorite tripod head is the super-slick Acratech GP Ballhead. It's great design maximizes function while minimizing weight. Unlike other ballheads, there is no excess metal so no excess weight and no place for dirt or sand to get trapped. The quick-release works nicely will all Arca-style QR Plates.
Get the full specs at B&H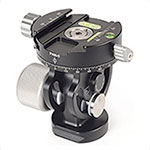 Leofoto Monopod Tilt Head
If you're looking for a tilt head for a monopod, the Leofoto Monopod Tilt Head is machined from lightweight aircraft grade aluminum with a satin anodized surface. Its panoramic tilt head will accommodate any Arca-Swiss style quick-release plates.
Get the full specs at Amazon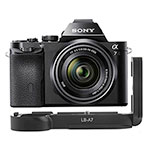 Neewer L Brackets
The biggest pain of using a tripod is tightening and loosening the tripod threads into the camera baseplate. That's where quick-release plates come in handy. Neewer makes a great Arca-Swiss industry standard quick-release L-Brackets that still allows easy access to the slots on the side of the camera.
Get the full specs at Amazon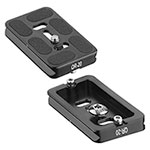 Oben QR Quick Release Plates
Oben QR Quick Release Plates are a great affordable yet well made choice when you're looking for Arca Swiss-style quick release plates for long lenses or lens mount adapters. They come in 3 lengths, and the Oben QR-20 Quick Release Plate is just the right size for most tele-zooms.
Get the full specs at B&H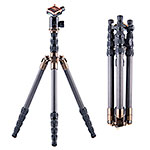 3 Legged Thing X1.1 Brian Evolution 2 Carbon Fiber Tripod with AirHed 1
This tripod extends to 78.7 inches, yet folds to a mere 16.5 inches for easy packing when traveling. When I'm traveling without a stand case I can just throw it in my suitcase of roller bag. It uses the same industry-standard Arca-style plates as the ballhead above.
Get the full specs at Amazon | B&H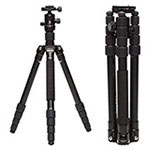 Benro A-269M8 Travel Tripod with B-1 Ballhead
If the 3 Legged Thing is pricier than your budget, check out the aluminum Benro Travel Angel II Tripod. Though it weight s bit more, it's a solid tripod that allows you to lock down a vibration-free shot.
Get the full specs at Amazon | B&H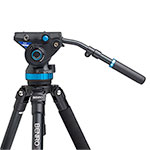 Benro S8 Pro Video Head and A3573F Series 3 AL Tripod
Smooth pans for video all begins with a good video head – which can be the difference between smooth video and shaky cam. Benro makes great video tripod and fluid video heads at a reasonable price. Benro S8 Pro Video Head and A3573F Series 3 AL Tripod allows smooth pans – it's hard to beat for under $500.
Get the full specs at Amazon | B&H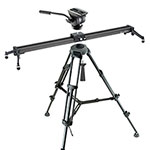 Libec ALLEX S KIT
If you're looking for the ultimate versatility, Libec ALLEX S KIT combines a Tripod, Head and Slider into one handy kit that allows you to slide, pan and tilt your camera elevated on a tripod. You can position the slider slanted at various angles on the tripod and capture smooth, diagonally moving shots. Kit includes two padded carrying cases are included, one for the tripod and head – the other for the slider.
Get the full specs at B&H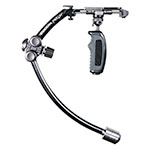 Steadicam Merlin 2 Camera Stabilizing System
Steadicam Merlin 2 lets you go where the scene takes you–up or down steps, indoors and out, through crowds–almost without limitation. The Merlin 2 weighs just 1.4 lb and can handle cameras up to 5 lb in weight. It gives you precise, elegant control for dramatic, professional you-are-there footage. The quick-release mount lets you instantly switch between your stabilizer and any tripod. This system utilizes a metal gimbal for smooth camera movement.
Get the full specs at Amazon | B&H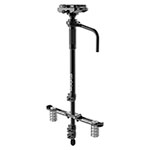 Steadicam Solo Stabilizer & Monopod
The Steadicam Solo Stabilizer & Monopod quickly converts back-and-forth between a Steadicam and monopod, handily providing the functions of both in one portable unit. It features a 3-axis gimbal and supports up to 10 lb. It telescopically extends out to four sections to approximately average shoulder height, and it folds to a compact 24″ in length. It can be used handheld or with an optional Steadicam Solo Arm Vest Kit. A quick release camera mounting plate and a set of counterweights are included, allowing for out-of-the-box use.
Get the full specs at B&H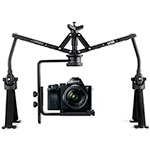 Comodo Orbit Handheld Stabilization Rig
This mechanically driven, twin grip gimbal stabilization system utilizes two gimbal handgrips to isolate the camera from bumps and shakes, helping the camera to seemingly float in space. With a twin grip design, the stabilizer can be passed from one operator to another, allowing it to travel through windows or other tight spaces. Having two handgrips also reduces operator fatigue, letting you shoot longer than with single-handed stabilizers.
Get the full specs at B&H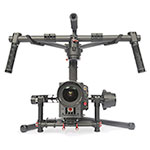 DJI Ronin 3-Axis Brushless Gimbal Stabilizer
If you're looking for a MoVi-syle cinema rig for under three grand, the DJI Ronin 3-Axis Brushless Gimbal Stabilizer is a camera stabilization system designed to give the operator close to the freedom of unencumbered handheld shooting but without the hand-shake. Suitable for most camera types and configurations up to 16 pounds, Ronin uses brushless motors that work on three axes: one for side-to-side "roll" – keeping the horizon level – one for tilt, and one for pan. The system is computer-controlled and boasts a precision of control. An IMU (inertial measurement movement) detects movement and engages the motors to react, using algorithms to differentiate between intentional movement such as pans and tracking shots from unwanted shake.
Get the full specs at B&H
Cameras | Lenses | Lens Adapters | Lighting | Modifiers | Grip | Camera Support | Bags + Cases
Computers + Tech | Still Accessories | Audio | Kits | Recommended Reading