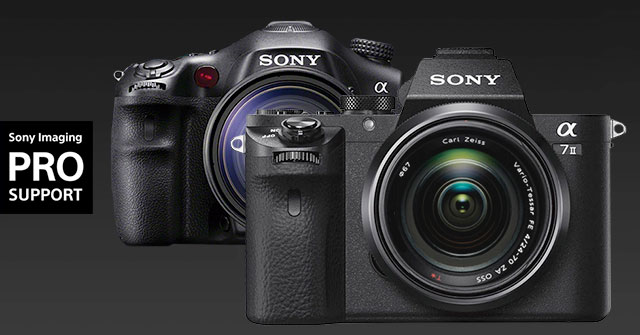 Check out Sony Imaging PRO Support if you're looking for premium pro support service for your Sony cameras. Sony Pro Support offers qualifying pro members dedicated phone and email support, expedited repairs and reduced shipping on repairs, evaluation loaners, three camera and/or lens maintenance services per year and invitations to special events.
Sony Imaging PRO Support is currently available in the USA, Japan, Germany, Australia and Hong Kong.
Depending on demand and success in these countries, Sony Imaging PRO Support could expand to more. If Sony Pro Support is not offered in your country – contact Sony in your country or region.
Sony Imaging PRO Support USA Membership Benefits Include:
Dedicated Phone & Email Support
Invitation to special events
Evaluation Loaners (try before you buy)
Repair Facilitation Loans if repair turnaround time is not met
Three camera and/or lens maintenance services per year
Covered Inbound/outbound shipping cost

(Membership Benefits vary between regions. Consult the program terms and conditions in your area.)
Qualifying Applicants Must Meet All the Following Requirements:
Own a minimum of 2 Sony Alpha Full-Frame interchangeable lens Cameras and a minimum of 3 Sony Zeiss and/or G Series lenses
Be an active professional photographer (self-employed or an employee of a professional imaging business/organization)
Provide professional work samples – either tear sheets or a business URL with galleries
Pay an Annual Membership Fee*

*Sony Imaging PRO Support USA Membership is $100/year. Prices vary depending on region.