Silent Shooting Mode
Wedding photographers are going to LOVE this feature! For times when absolute silence is required on a shoot, such as weddings, movie sets, courtrooms or photojournalists who want to be as silent as a fly on the wall, the Sony A7S offers a totally silent all-electronic 'Silent Shooting' mode that allows photographers to work as unobtrusively as possible.
IT'S NOT "LESS NOISY" like the Electronic First Curtain shutter found in Sony A7, A99, A77, A6000 or their competitors.
IT'S NOT "NEARLY SILENT" like the leaf-shutter in the the Sony RX1.
IT'S TOTALLY S-I-L-E-N-T.
Silent shutter mode uses an electronic rolling shutter – a first in full-frame CMOS senor – meaning flash sync with not possible. Then again, flash photography and stealth don't exactly mix.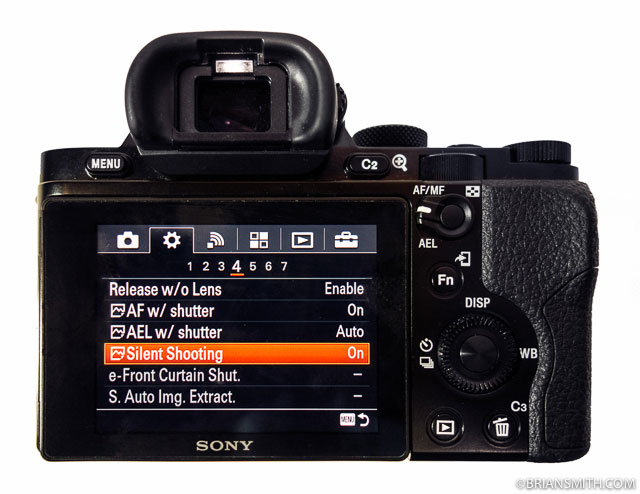 Activate Silent Shutter mode here: Menu > Custom Settings 4 > Silent Shooting > ON
Given the frenzy of World Cup, I never found a time I needed Silent Shooting mode. But I did test it out at the Exposure Show in Toronto for this portrait of my pal David Oyagi. Shooting portraits with a silent shutter is a rather odd experience as the subject doesn't get the feedback of an audible "click".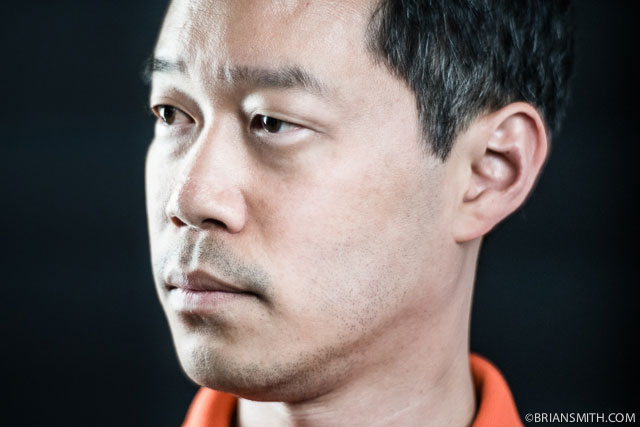 Sony A7S | Petzval 85mm F2.2 Art Lens / | 1/2000 sec | F2.2 | ISO 3200 | Silent Shooting Mode ON
Lighting: Westcott Skylux 1000W LED Light
Because Sony A7S silent shooting mode uses an electronic rolling shutter, it functions exactly like a video shutter meaning to capture a smooth exposure without banding under lights that pulse such as fluorescent lighting, you must shoot slower than the pulse of the lights (generally 1/50-1/60th of a second.)
Less is More
In this world of more and more and more pixels – what if you prefer less? I'll be honest, I'm a more is more guy, but if 12.2 mega-pixels meets your needs and you don't want more – make them great megapixels. This give you more images on your memory card, longer burst before you hit the buffer and faster post-processing.
In Continuous mode you can shoot long bursts without hitting the buffer: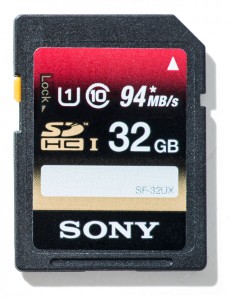 • 200 frames Jpeg Fine Large
• 88 frames Jpeg Extra Fine Large
• 61 frames RAW or
• 35 frames RAW + JPG
Shooting with a fast memory card allows you to shoot even longer burst without buffer slowdowns. Good memory cards are one of the best investments you can make in maximizing the performance of your camera. I use Sony SDHC Class 10 UHS-1 memory cards because they offer outstanding performance at a great price. I use the 32gb SDHC 10 UHS-1 cards for stills, but if you plan to shoot video – you may wish to get the larger 64gb SDXC 10 UHS-1 cards to access XAVC S video format.
The Bottom Line
Even if you never ever plan to shoot 4K video – there's a lot to love about Sony A7S. Sony wisely positioned the 12.2mp Sony A7S, 24.3mp Sony A7 and 36.4mp Sony A7R distinctly apart so that each camera has it's own unique strengths. Check them out to see which is best for your needs.
EQUIPMENT LIST:
Sony A7S Camera (Amazon | B&H)
Sony A7R Camera (Amazon | B&H)
Sony FE 35mm F2.8 ZA Lens (Amazon | B&H)
Sony FE 55mm F1.8 ZA Lens (Amazon | B&H)
Sony FE 24-70mm F4 ZA Lens (Amazon | B&H)
Sony FE 70-200mm F4 G OSS Lens (Amazon | B&H)
Sony LA-EA4 Lens Mount Adapter (Amazon | B&H)
Sony SAL 70-400mm F4-5.6 G II Lens (Amazon | B&H)
Sony Sling Bag Carrying Case (Amazon | B&H)
Sony Alpha DSLR Camera/15″ Laptop Backpack (Amazon | B&H)
Sony 32GB SDHC Class 10 UHS-1 Memory Cards (Amazon | B&H)
Processed in Adobe Lightroom 5 (Amazon | B&H)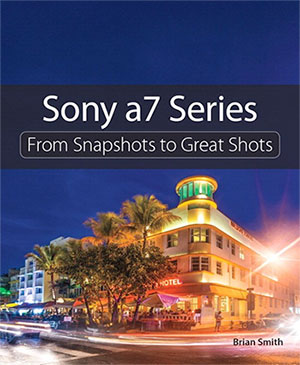 For more tips and tricks about getting the most out of your Sony a7 series camera, check out my new book 'Sony a7-Series: From Snapshots to Great Shots'.
It's your guide to all of the Sony a7-Series cameras including the new a7RII. While the camera manual explains what the camera can do, it doesn't show how to use the camera to create great images! Starting with the Top Ten things users need to know about the cameras, author Brian Smith, a Pulitzer Prize-winning photographer and Sony Artisan of Imagery, carefully guides you through the operating features of Sony a7, a7R, a7S, a7II and a7RII and how to use them. Get practical advice from a pro on which settings to use when, great shooting tips, and assignments at end of chapter to practice what you've just learned.
'Sony A7 Series: From Snapshots to Great Shots' is available NOW from Peachpit, Amazon & Amazon UK
SHIPPING NOW FROM PEACHPIT! SAVE 35% WITH DISCOUNT CODE: BRIANSMITH
Read Field Test: Sony A7R
Read Sony A7/A7R/A7S Lens Mount Adapters
Read Team USA photographed with Sony A77II