There's still time to grab many of the great Sony USA Holiday Deals on Cameras, Lenses and Accessories!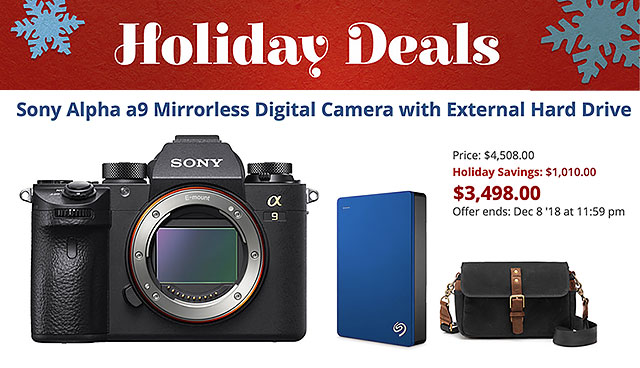 Sony Alpha a9 Mirrorless Camera with External 5TB Hard Drive and Shoulder Bag
List Price: $4,498 | Instant Savings: $1,000 | Price after Savings $3,498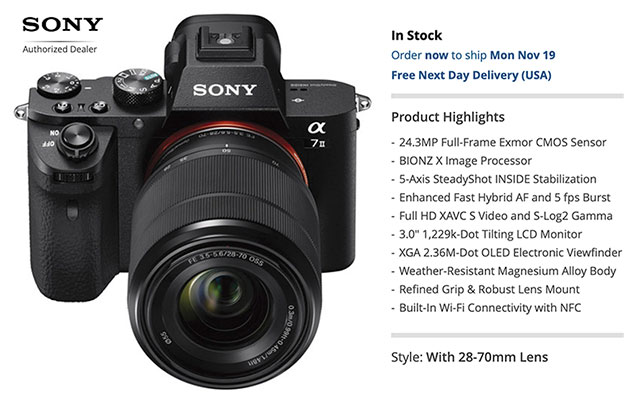 Sony a7 II Mirrorless Camera with 28-70mm Lens | List Price $1,598 | Save $600 | Price after Savings $998
Sony USA just rolled out their LOWEST PRICE EVER on Sony a7 II Kit with FE 28-70mm lens and accessories! Available now for Under $1,000! At this price, Sony is going to sell a LOT of these, so grab one while they're in stock!
Get Sony a7 II Kit Deal at B&H Photo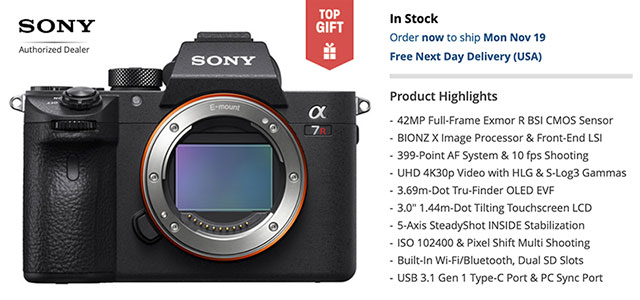 Sony a7R III Mirrorless Camera (Body Only) | List Price $3,198 | Save $400 | Price after Savings $2,798
Save $400 on High-Resolution Flagship Sony a7R III 42mp Mirrorless Camera! Boo-yah!!!
Get Sony a7R III Deal at B&H Photo | Amazon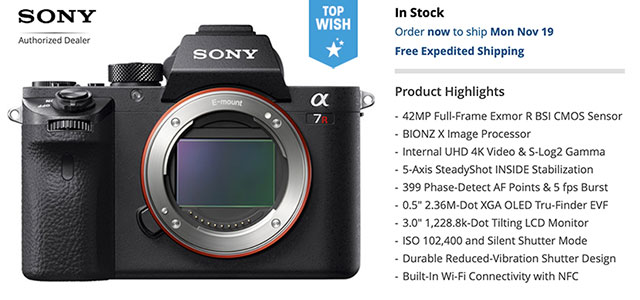 Sony a7R II Mirrorless Camera (Body Only) | List Price $1,998 | Save $400 | Price after Savings $1,598
Get Sony a7R II Deal at B&H Photo | Amazon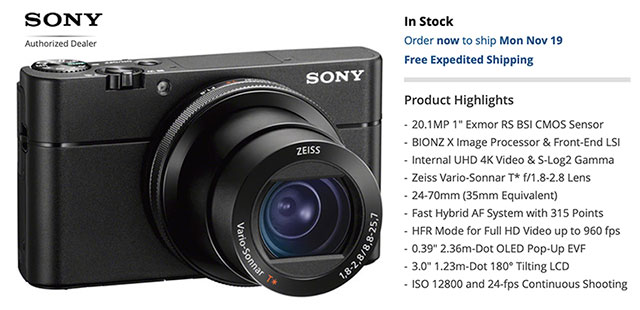 Sony RX100 VA Cyber-Shot Compact Camera | List Price $998 | Save $100 | Price after Savings $898
Save $100 on Sony RX100 VA Compact Camera and get 50% off VCT-SGR1 Shooting Grip with purchase
Get Sony RX 100 VA Deal at B&H Photo | Amazon
Save on 4K Cinema Cameras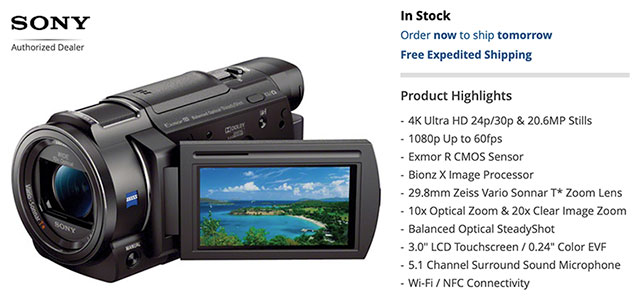 Sony FDR-AX33 4K Ultra HD Handycam Camcorder
List Price $848 | Instant Savings $150 | Price after Savings $698
Get Sony FDR-AX33 Deal at B&H Photo | Amazon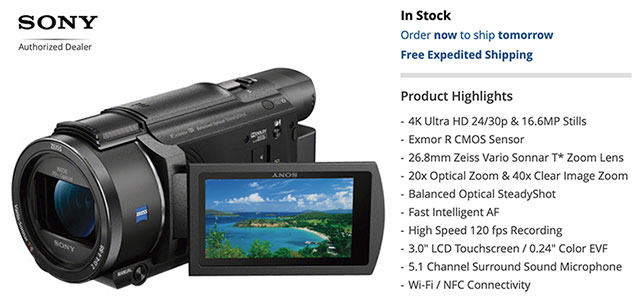 Sony FDR-AX53 4K Ultra HD Handycam Camcorder
Price: $998 | Instant Savings $200 | Price after Savings $798
Get Sony FDR-AX53 Deal at B&H Photo | Amazon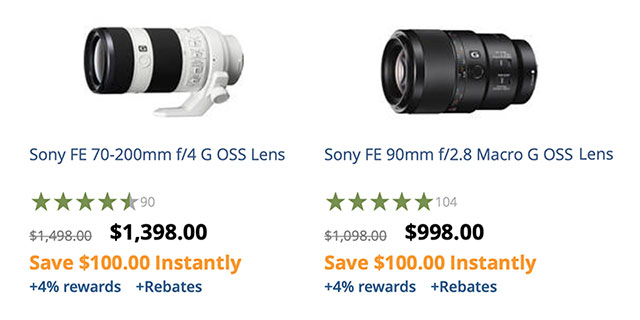 Save Up to $100 OFF Sony FE Lenses:
$50 OFF Sony FE 12-24mm f/4.0 Glens at B&H Photo | Amazon | Adorama
$100 OFF Sony FE 16-35mm f/4.0 Zeiss lens at B&H Photo | Amazon | Adorama
$100 OFF Sony FE 24-70mm f/4.0 Zeiss lens at B&H Photo | Amazon | Adorama
$50 OFF Sony FE 24-240mm lens at B&H Photo | Amazon | Adorama
$25 OFF Sony FE 28mm f/2 lens atB&H Photo | Amazon | Adorama
$50 OFF Sony FE 28-135mm PZ lens at B&H Photo | Amazon | Adorama
$100 OFF Sony FE 35mm f/1.4 ZA lens at B&H Photo | Amazon | Adorama
$100 OFF Sony FE 35mm f/2.8 ZA lens at B&H Photo | Amazon | Adorama
$100 OFF Sony FE 50mm f/1.4 ZA lens at B&H Photo | Amazon | Adorama
$50 OFF Sony FE 50mm f/1.8 lens at B&H Photo | Amazon | Adorama
$50 OFF Sony FE 50mm f/2.8 macro at B&H Photo | Amazon | Adorama
$50 OFF Sony FE 55mm f/1.8 ZA lens at B&H Photo | Amazon | Adorama
$100 OFF Sony FE 70-200mm f/4 G OSS lens at B&H Photo | Amazon | Adorama
$50 OFF Sony FE 70-300mm f4.5-5.6 lens at B&H Photo | Amazon | Adorama
$25 OFF Sony FE 85mm f/1.8 lens at B&H Photo | Amazon | Adorama
$100 OFF Sony FE 90mm f/2.8 Macro G OSS lens at B&H Photo | Amazon | Adorama
Save Up to $100 OFF Sony E-Mount APS-C Lenses:
$50 OFF Sony E 10-18mm f/4 OSS APS-C Lens at B&H Photo | Amazon
$25 OFF Sony E PZ 18-105mm f/4 G OSS APS-C Lens at B&H Photo | Amazon
$50 OFF Sony E PZ 18-110mm f/4 G OSS APS-C Lens at B&H Photo | Amazon
$100 OFF Sony E 18-135mm f/3.5-5.6 OSS APS-C Lens at B&H Photo | Amazon
$50 OFF Sony E PZ 18-200mm f/3.5-6.3 OSS APS-C Lens at B&H Photo | Amazon
$50 OFF Sony E 20mm f/2.8 APS-C Lens at B&H Photo | Amazon
$25 OFF Sony E 35mm f/1.8 OSS APS-C Lens at B&H Photo | Amazon
$25 OFF Sony E 50mm f/1.8 OSS APS-C Lens at B&H Photo | Amazon
Save Up to $100 Off Sony Accessories:
$100 OFF Sony HVL-F60RM Wireless Radio Flash at B&H Photo | Amazon
$100 OFF Sony XLR-K2M XLR Adapter Kit with Microphone at B&H Photo
$50 OFF Sony HVL-F45RM Wireless Radio Flash at B&H Photo | Amazon
$50 OFF Sony HVL-F32M External Flash at B&H Photo | Amazon
$50 OFF Sony FA-WRC1M Wireless Radio Commander at B&H Photo | Amazon
$50 OFF Sony Underwater Housing for RX100-Series Cameras at B&H Photo
$50 OFF Sony VG-C3EM Vertical Grip at B&H Photo | Amazon
$50 OFF Sony LA-EA3 Lens Adapter at B&H Photo | Amazon
$50 OFF Sony LA-EA4 Lens Adapter at B&H Photo | Amazon
$30 OFF Sony ECM-XYST1M Stereo Microphone at B&H Photo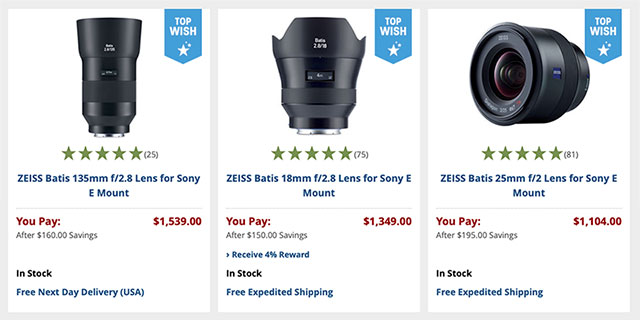 $195 off Zeiss Batis 25mm f/2 FE lens at B&H Photo | Amazon | Adorama
$180 off Zeiss Batis 85mm f/1.8 FE lens at B&H Photo | Amazon | Adorama
$160 off Zeiss Batis 135mm f/2.8 FE lens at B&H Photo | Amazon | Adorama
$150 off Zeiss Batis 18mm f/2.8 FE lens at B&H Photo | Amazon | Adorama
$225 off Zeiss Loxia 21mm f/2.8 FE lens at B&H Photo | Amazon | Adorama
$210 off Zeiss Loxia 85mm f/2.4 FE lens at B&H Photo | Amazon | Adorama
$195 off Zeiss Loxia 35mm f/2 FE lens at &H Photo | Amazon | Adorama
$140 off Zeiss Loxia 50mm f/2 FE lens at B&H Photo | Amazon | Adorama
$150 off Zeiss Touit 12mm f/2.8 APS-C E-Mount Lens at B&H Photo | Amazon | Adorama
$150 off Zeiss Touit 50mm f/2.8 Macro APS-C E-Mount Lens at B&H Photo | Amazon | Adorama
$108 off Zeiss Touit 32mm f/1.8 APS-C E-Mount Lens at B&H Photo | Amazon | Adorama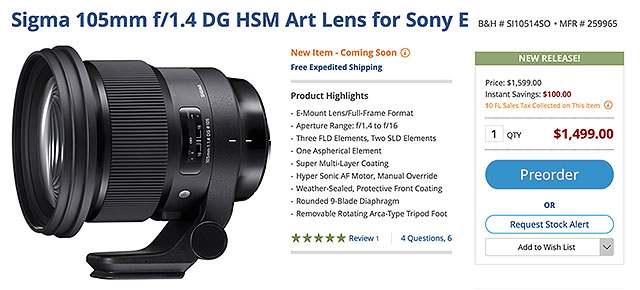 Save $100 on Sigma Full Frame E-mount lenses
Sigma 14mm f/1.8 for $1,499 at B&H Photo | Amazon | Adorama
Sigma 20mm f/1.4 for $799 at B&H Photo | Amazon | Adorama
Sigma 24mm f/1.4 for $749 at B&H Photo | Amazon | Adorama
Sigma 35mm f/1.4 for $799 at B&H Photo | Amazon | Adorama
Sigma 50mm f/1.4 for $849 at B&H Photo | Amazon | Adorama
Sigma 70mm f/2.8 Macro for $519 at B&H Photo | Amazon | Adorama
Sigma 85mm f/1.4 for $1,199 at B&H Photo | Amazon | Adorama
Sigma 105mm f/1.4 for $1,499 at B&H Photo | Amazon | Adorama
Sigma 135mm f/1.8 for $1,299 at B&H Photo | Amazon | Adorama
You can also Save $100 on Sigma MC-11 Mount Adapter at B&H Photo | Amazon | Adorama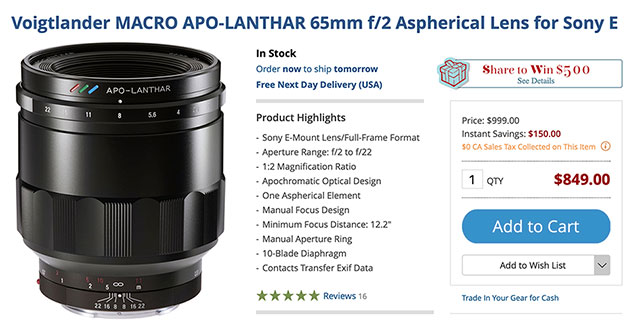 Save Up to $150 on Voigtlander FE Lenses
Voigtlander MACRO APO-LANTHAR 65mm f/2 Aspherical Fullframe E-Mount Lens
List Price: $999 | Instant Savings: $150 | Price After Savings $849
Voigtlander Heliar-Hyper Wide 10mm f/5.6 Aspherical Fullframe E-Mount Lens
List Price: $1,099 | Instant Savings: $150 | Price After Savings $949
Voigtlander Ultra Wide-Heliar 12mm f/5.6 Aspherical III Fullframe E-Mount Lens
List Price: $999 | Instant Savings: $100 | Price After Savings $899
Voigtlander Nokton Classic 35mm f/1.4 Fullframe E-Mount Lens
List Price: $799 | Instant Savings: $100 | Price After Savings $699
Voigtlander Super Wide-Heliar 15mm f/4.5 Aspherical III Fullframe E-Mount Lens
List Price: $799 | Instant Savings: $50 | Price After Savings $749
Limited Time Savings – Subject to Availability

Save $50 OFF Venus Optics Zero-D Lenses:
$50 off Venus Optics Laowa 12mm f/2.8 Zero-D FE lens at B&H Photo | Amazon | Adorama
$50 off Venus Optics Laowa 15mm f/2 FE Zero-D FE lens at B&H Photo | Amazon | Adorama
$50 off Venus Optics Laowa 9mm f/2.8 Zero-D APS-C E-mount lens at B&H Photo | Amazon | Adorama