Sony a9 II Firmware Update 2.00 adds Hi Frequency flicker function, which allows you to reduce the impact of flickering of artificial light sources (e.g. digital signage, electronic signboards, LED lights, etc.), by more finely adjusting the shutter speed
Benefits and Improvements
• Adds the Hi Frequency flicker function, which allows you to reduce the impact of flickering of artificial light sources (e.g. digital signage, electronic signboards, LED lights, etc.), by more finely adjusting the shutter speed
NOTE: As of April 9th, 2020, Hi Frequency flicker function is only accessible in the updated camera menu and cannot be accessed through Imaging Edge Remote, Imaging Edge Mobile or Remote Camera Tool software.
• Improves the Face/Eye Priority in the AF function:
• When set to a custom key, the Face/Eye Priority in the AF function can be activated or deactivated each time the custom key is pressed
• If Face/Eye Priority is already set to custom key, this improvement will be available after the camera is updated
• Improves the Remote Camera Tool function by adding support for displaying Focus Frame for almost all scenes
NOTE: Version 2.00 (or later) of the Remote Camera Tool is required. Please update to the latest version.
• Improves the FTP transfer function
• Allows the camera's MAC address to be displayed as a QR code
• Adds a function to close the shutter when you turn off the camera to prevent dust or debris from adhering to the image sensor when you change lenses
• Allows you to save or load the customized camera settings to My MENU
• Improves the overall stability of the camera
For updated function usage and additional information, please refer to the ILCE-9M2 Help Guide. Additionally, a revision has been made to the instruction manual according to this update. The latest version of the instruction manual can be downloaded from referenced website.
Previous Benefits and Improvements
All previous benefits and improvements are included in this update:
• FTP transfer can be started earlier after shooting pictures
• Improves the overall stability and performance of the camera:
• Corrects a condition where the camera can sometimes turn off when playing RAW images
• Improves JPEG image quality when shooting under specific conditions
File Name
ILCE-9M2 System Software (Firmware) Update Ver. 2.00
File Version
2.00
Release Date
04-09-2020
Download Links:
MAC USERS PLEASE NOTE:
The latest Sony Firmware Updates are only compatible with Mac OS 10.13 – 10.15
You must first run UpdateSettingTool and follow the prompts to run it.

1. Make sure the camera's USB Connection is set to Mass Storage
2. WITHOUT CONNECTING THE CAMERA, Click on UpdateSettingTool.
3. Once you see this message, connect the camera.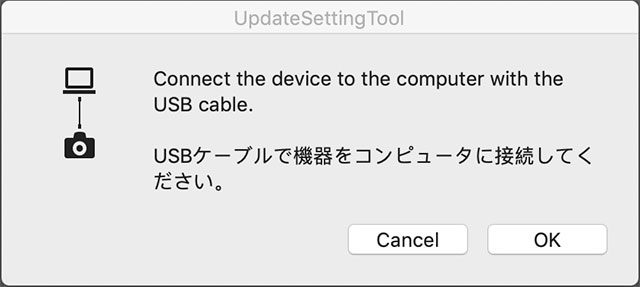 4. When the above message goes away, click on the Resources Folder, click on "SystemSoftwareUpdater" and follow prompts to begin the firmware update.

Before Updating Firmware Please Read: