Sony a7R IV Firmware Update 1.20 improves Video AF with the FE 12-24mm F2.8 GM lens and improves overall stability. As always, I recommend all users keep their firmware up to date even if you don't plan to shoot video with the FE 12-24mm F2.8 GM lens.
Benefits and Improvements
• Improves the Auto Focus (AF) performance when recording movies with the FE 12-24mm F2.8 GM
• Improves the overall stability of the camera
Previous Benefits and Improvements
[All Previous Benefits and Improvements are also included in this Update]
File Name
ILCE-7RM4 System Software (Firmware) Update Ver. 1.20 (Mac)
File Version
1.20
Release Date
08-06-2020
Download Links:
MAC USERS PLEASE NOTE:
The latest Sony Firmware Updates are only compatible with Mac OS 10.13 – 10.15
You must first run UpdateSettingTool and follow the prompts to run it.

1. Make sure the camera's USB Connection is set to Mass Storage
2. WITHOUT CONNECTING THE CAMERA, Click on UpdateSettingTool.
3. Once you see this message, connect the camera.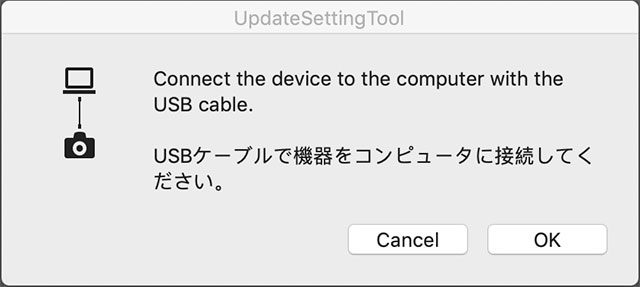 4. When the above message goes away, click on the Resources Folder, click on "SystemSoftwareUpdater" and follow prompts to begin the firmware update.

Before Updating Firmware Please Read: