Sony's flagship fullframe A-mount camera finally gets a remake and it's a Big One!
Sony a99 II ($3,199.95) gets Sony's top-of-the-line 42.4 MP back-illuminated CMOS sensor and a all-new processor and LSI turbocharged for more processing horsepower than any Sony camera to date. It's packed full of new features – some are totally new features, some are new to fullframe and others are new to A-mount. These are my favorites.
1. Hybrid Phase Detection AF
NEW TO FULLFRAME: Sony a99 II is the first fullframe camera to get 4D predictive focus. Sony a99 II Hybrid Phase Detection AF combines a dedicated 79-point Phase Detection AF module with the large 399-point on-sensor PDAF system found in a7RII and RX1R II for the best focus tracking ever.
Dual-Pixel AF systems found in DSLRs can only use one system or the other – but never both together. Sony's Hybrid Phase Detection AF system uses both systems together continuously – not separately. Unlike DSLRs, a99 II focuses with both systems continuously – even when the camera is recording. This is only possible with translucent mirror cameras.
PLUS
EQUALS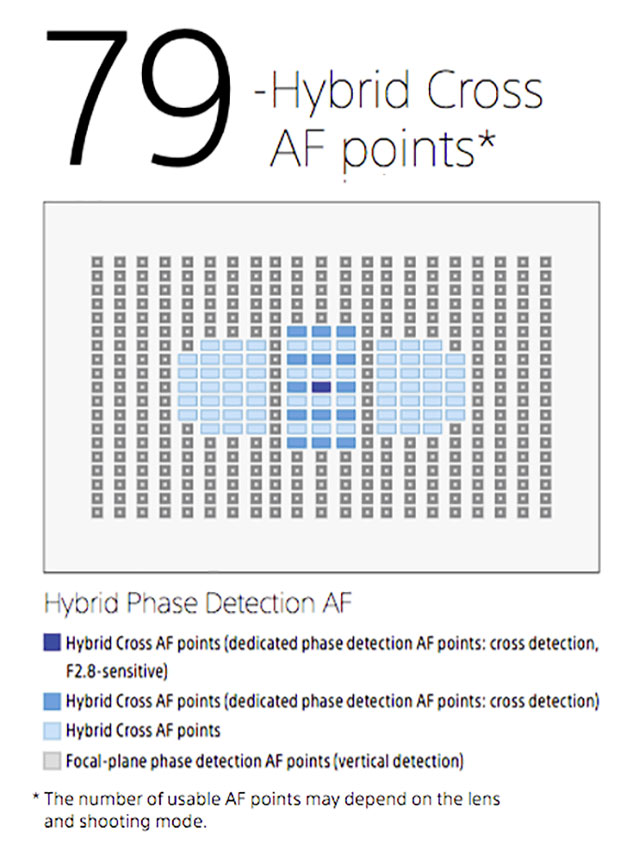 This combination allows you to continuously track moving subjects at a high rate of speed with extreme accuracy – even in challenging lighting conditions.
2. Shoot 42.4 MP at 12 FPS
• Fast AF/AE tracking at up to 12 FPS
NEW FEATURE: Sony a99 II is the FIRST fullframe camera over 24mp to offer 12 FPS continuous shooting. And thanks to Sony's fastest processor ever, you can shoot 50 continuous frames of full res RAW + Jpeg before hitting the buffer. That's slightly more than a 4-second burst.
Continuous shooting while maintaining reliable AF and AE tracking requires serious processing power and speed. Sony a99 II is able to do this with a 42.4 effective megapixel image sensor that allows high-speed readout, BIONZ X processing, and a newly developed front-end LSI for controlled noise processing at higher resolution. The shutter unit itself has also been redesigned for faster response. These refinements work with Hybrid Phase Detection AF to allow continuous auto focus and auto exposure at up to 12 FPS. Yup, focus and exposure are NOT locked on the first frame – even at 12 FPS.
• Live View with Minimal Lag at up to 8 FPS with AF/AE tracking
FIRST IN A-MOUNT: With the a99 II you can even use live view while shooting continuously at up to 8 FPS with full AF and AE tracking, thanks to an improved display algorithm. Display lag is so small that viewing is essentially no different from an optical viewfinder. Continuous live view shooting speed can be set to 8 fps, 6 fps, or 4 fps to match a variety of subjects
Can't wait to test it out with this Bad Boy!


Sony a99 II + Sony 300mm F/2.8G II Lens
3. First Fullframe DSLR with 5-axis In-Body Image Stabilization

NEW TO A-MOUNT: Taking a cue from Sony a7 Mark II cameras, a99 II gets a brand-new full-frame optical 5-axis in-body image stabilization system developed specifically for A-mount cameras. Advanced 5-axis image stabilization not only helps to realize the full resolution potential of the body"™s 42.4 megapixel sensor, but also works effectively for video as well as stills. The redesigned system implements precision gyro sensors that are capable of accurately detecting even the smallest camera motions that might cause blur, providing up to a 4.5 step shutter speed advantage.
4. Reliable Low-Light AF Down to EV -4

NEW TO A-MOUNT: Although low light can be a challenge for many autofocus systems, Sony a99 II maintains reliable, accurate autofocus right down to EV-4 brightness levels at the dedicated phase detection AF sensor"™s central focus point – matching the performance of Sony's low-light monsters a7S & a7SII. That means you can take full advantage of the camera"™s excellent low-light imaging capability with uncompromised AF performance even when shooting in near darkness at high ISO.
5. 4K Recording
NEW TO A-MOUNT: Sony a99 II allows you record 4K video from the FULL WIDTH of the fullframe sensor…unlike some other DSLRs. Or you can select to shoot over-sampled 4K in Super35 crop mode with full pixel readout and no pixel binning or line-skipping.
6. Silent Shooting Mode
NEW TO A-MOUNT: This popular feature found in Sony a7S, a7RII and a7SII, makes its way into Sony A-mount cameras offers the options to shoot in total silence.
UPDATE: (4:30pm 9/21/16) Sony Japan presented Sony USA with specs for a99 II that included Silent Shooting Mode and that's what Sony USA presented to me.
I triple-checked all the specs before posting and have since re-confirmed that Silent Shooting Mode is on the list of specs I was given. This error either came from Sony Japan or was simply "Lost in Translation." 6B. Eye Focus

NEW TO A-MOUNT FULLFRAME: Eye AF automatically detects and focuses on the ideal focus point for portraits: the subject"™s eye. In the a99 II it provides reliable detection within the relatively narrow depth of field of the full-frame sensor, The detected eye is indicated in the viewfinder for pre-shoot confirmation. Eye AF can be assigned to a custom button for quick access when needed.
7. Flicker-Free Shooting

NEW FEATURE: Flicker from fluorescent lights and other artificial lighting can ruin still images if it and the shutter timing are out of sync. The a99 II automatically detects flicker and adjusts shutter timing to minimize its effect. Exposure and color anomalies that can occur at the top and bottom of images shot at high shutter speeds are reduced, as are exposure and color inconsistencies between continuous shots
8. Custom File Naming

NEW TO A-MOUNT: This great feature first found in a6300, allows you to set Custom File Names for the images you capture. This is a great feature for anyone shooting with multiple cameras or wedding and event coverage with multiple photographers.
9. Embed Your Copyright Notice
NEW TO A-MOUNT: First introduced in a7RII, allows you to save your copyright notice into the copyright field of your EXIF metadata of your photos so it's there right from the start in case you forget to add it later.
10. Image Storage Selection for PC Remote

NEW FEATURE: When the camera is tethered to a computer, still images can be stored in the camera as well as on the computer so they can be reviewed without having to leave the camera position. And when shooting RAW+JPEG it is possible to transfer only the JPEG files to the computer to reduce data volume and allow transferred images to be reviewed almost immediately
11. New Metering Modes & Improved Spot Metering

NEW FEATURE: With this totally new option, you can select between Highlight Weighted Mode and Full-frame Average Mode. Improved Spot Metering allows you to link the metering spot to focus area and Spot Metering Area can be set Standard or Large.
12. Fast and Slow HD Video Recording Modes
NEW FEATURE: Sony a99 II offers 120FPS for 5X Extreme Slow Motion and 1 FPS for Time Lapse HD video recording.
This video that shows how it works:

13. S-Gamut/S-Log and Gamma Display Assist
NEW TO A-MOUNT: S-Log3 and S-Log2 gamma are now included making wide dynamic range shooting (1300%) possible without blown highlights or blocked shadows. Gamma Display Assist lets you view images with natural contrast while recording in S-Log gamma setting, converting S-Log2 and S-Log3 into ITU709 (800%) gamma for monitoring* images, or checking focus while enlarging an image on the LCD screen or viewfinder.
14. Extract Stills From Video
NEW TO A-MOUNT: You can extract high-quality 8 megapixel stills from 4K video and stored separately.
15. XGA OLED Tru-Finder with Zeiss T* Coatings

NEW TO A-MOUNT: Sony a99II gets the top-of-the-line XGA OLED 0.78 Magnification Tru-Finder with a high-resolution, high-contrast organic light-emitting diode EVF found in a7RII and a7SII. A viewfinder magnification function provides up to 15.5x magnification for precise manual focus.
What it DOESN'T Have…
APPS
Like the other A-mount cameras, Sony a99 II is not compatible with Play Memories Camera Apps.
GPS
GPS won't function through Sony's all-metal body and pro-camera shouldn't be made out of plastic. But for those of you who need GPS, location data can be acquired from mobile devices via Bluetooth and recorded to still images.
The camera can be paired to the PlayMemories Mobile app installed on a compatible smartphone or tablet, allowing it to acquire location data from the mobile device and record that data with still images or movies. The PlayMemories Home application can then be used on a personal computer to organize images imported into the computer on a map.
Bluetooth connectivity available with the following terminal devices (at the date of release):
• Android (Android 5.0 or later, Bluetooth 4.0 or later)
• iOS (Bluetooth 4.0 or later)
POP-UP FLASH
Sorry, they don't put pop-up flash in pro cameras.
HUGE THANKS to Sony Digital Imaging Samurai Mark Weir for his technical assistance in breaking down these great new functions!