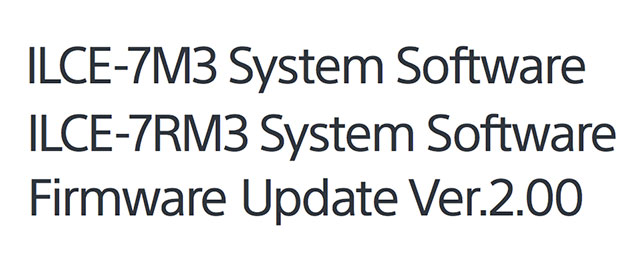 Sony released a major firmware update for a7 III & a7R III cameras with optimized support for FE 400mm F2.8 GM FE 24mm F1.4 GM lenses.
In a bit of unexpected great news for A-mount lens users, this camera firmware update adds support for Zone, Expanded Flexible Spot, and Lock-on AF with Sony LA-EA3 lens adapter with a7 III & a7R III.
Sony also updated their Imaging Edge Software to version 1.3.01 offering better overall stability and support of improved RAW gradation included in this firmware update.
Benefits and Improvements from the latest update
• Support of "SEL400F28GM"and "SEL24F14GM"
• Optimization of the optical image stabilization performance, and addition of a new image stabilization mode of the lens (Mode 3)(Only "SEL400F28GM").
Addition of a Function Ring(Lens) to the menu.
Note: For the SEL400F28GM lens, the APS-C S35/Full Frame Sel. setting is assignable to the Function Ring in addition to Power Focus.
Addition of [Aperture Drive in AF] setting in the menu.
*Using the lens "SEL400F28GM" or "SEL24F14GM", when [Silent priority] is selected, the sound emitted by the aperture drive will be reduced. This is useful in shooting conditions where camera.
noise should be kept to a minimum. Note that Auto Focus may become slower when [Silent priority] is selected.
New Features:
• [AF Track Sens] can be assigned to a custom key.
• When used with the LA-EA3 mount adaptor [link to product page], all focus areas are supported.
Note: Focus Area options added: Zone, Expand Flexible Spot, and Lock-on AF.
• Bracket shooting is available during silent shooting when [File Format] is set to [RAW] or [RAW & JPEG] and [RAW File Type] is set to [Uncompressed].
Other Improvements:
• Improvement of the performance and the overall stability of the camera.
• Better reproduction of the gradation of RAW pictures.
Note: Imaging Edge software needs to be updated to benefit from the improvement in the RAW processing.
• When shooting with a flash in an environment with flickering light sources, the stability of the exposure is improved.
• Improvement of managing continuously shot images as a group.
Please refer to the HelpGuide for updated function usage.
Previous Benefits and Improvements
The following benefits and improvements from previous firmware updates are also included in this update
• Resolves a "blinking pixels" phenomenon at the bottom edge of the image during XAVC S 4K (PAL 25p) recording (depending on the combination of camera settings)
• Resolves an issue where the touch panel could occasionally become unresponsive
• Improves the overall stability of the camera
Release Date
10/10/2018
Download Links:
FW 2.00 for a7 III | FW 2.00 for a7R III
[Please Note: Mac OS 10.13 High Sierra users must first run Mac OS X Driver Loader before running any firmware updates.]
Before Updating Firmware Please Read:
Order Sony a7 III from B&H Photo | Amazon
Order Sony a7R III from B&H Photo | Amazon