UPDATED: JuLY 14, 2020 / ORIGINAL: August 22, 2016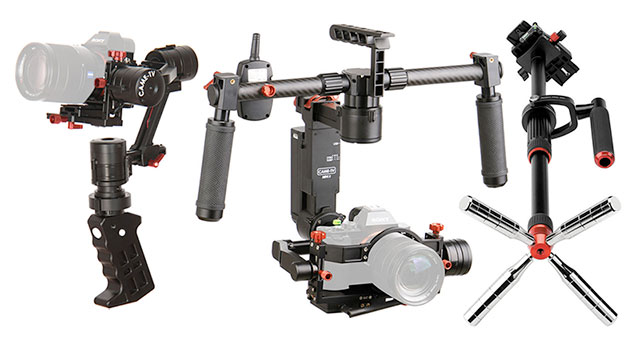 Here's a round-up of some on the best camera stabilizers for mirrorless cameras including Sony a7 Series fullframe mirrorless cameras.
ONE-HAND MOTORIZED GIMBAL STABILIZERS:
Zhiyun-Tech WEEBILL-S Handheld Gimbal Stabilizer comes with new motor units and an upgraded high-precision algorithm, with 300% improvement in motor torque and 50% increase in responsiveness. Camera and lens combinations such as Sony a7R IV + FE 24-70mm F2.8 GM can be perfectly balanced and stabilized on WEEBILL-S for smooth cinematic shots.
WEEBILL-S comes with multiple accessories, including an Arca Swiss/Manfrotto dual-layer quick release plate and a storage case. It also includes a removable mini tripod base that can be used as a stand or an extension handle. The mini tripod is also what completes the gimbal for underslung, low-mode operation. It attaches to the rear handle to function as an overhead handle.
Optional TransMount Image Transmission Module, is a compact device designed to neatly mount under the quick release plate of the WEEBILL-S and allow wireless streaming of up to 1080p30 resolution over distances up to 328′.
PRICE: $439
LOAD CAPACITY: Not Listed
WEIGHT: 2.04 lb / 0.926 kg
AVAILABLE FROM: B&H Photo | Amazon
THE SKINNY: The gimbal of choice by vloggers Jason Vong and Vivienne Lee offers impressive load capacity and light weight for a good price.
DJI Ronin-S Motorized Gimbal Stabilizer is more than just a miniaturized version of the larger Ronin gimbal stabilizers; it represents a scalable ecosystem for integrating DSLR and mirrorless cameras into professional-grade workflows. The single-handed form factor of the Ronin-S lends itself to lighter camera payloads, up to eight pounds. Don't let its size fool you; the Ronin-S has a lot going on under the hood. Separate modules are available for the handle and accessory docks, allowing you to customize the gimbal based on how you wish to operate it. While using the conventional battery grip, the Ronin-S will last up to 12 hours on a single charge.
PRICE: $749
LOAD CAPACITY: 7.94 lb
WEIGHT: 4.1 lb / 1.86 kg
AVAILABLE FROM: B&H Photo | Amazon
THE SKINNY: Designed by Ronin-S specifically for mirrorless cameras. While not the lightest or cheapest on the list, it features DJI quality & reliability…
Feiyu AK4500 3-Axis Handheld Gimbal Stabilizer supports up to 10 lb payloads and designed with an angled motor arm so there's nothing blocking your camera screen, it provides 360° pan, 230° tilt, and 360° roll motion. This gimbal features a multifunction handwheel on the side and a touchscreen LCD smart panel integrated into the handle. The handwheel allows you to control the movement of the camera in select operational modes, including pan and tilt modes, and also allows you digitally control focus and zoom with compatible cameras. Additionally, the handwheel provides external follow focus control if you add an optional, dedicated follow focus motor.
PRICE: $550
LOAD CAPACITY: 10.14 lb / 4.6 kg
WEIGHT: 3.64 lb / 1656 g (without Battery)
AVAILABLE FROM: B&H Photo | Amazon
THE SKINNY: Ten pound load capacity is ideal for balanced shooting with large or heavy lenses.
ikan EC1 Beholder 3-Axis Handheld Gimbal Stabilizer is a 3-axis handheld gimbal stabilizer for DSLR and mirrorless cameras weighing between 2 and 4.5 lb. The EC1 offers unlimited 360° rotation along the yaw, pitch, and roll axes, and features an advanced 32-bit controller and 12-bit encoder system. The gimbal employs an adaptive PID algorithm to deliver stable rotation. EC1 offers three follow modes plus an auto-inversion mode that allows for upside down operation.
PRICE: $500
LOAD CAPACITY: 2 to 4.5 lb / 0.9 to 2 kg
WEIGHT: 2.6 lb / 1.2 kg
AVAILABLE FROM: Amazon | B&H Photo
THE SKINNY: With a 2 to 4.5 lb load capacity, EC1 offers medium load capacity for mirrorless cameras with a moderate weight lens.
Moza AirCross 2 Gimbal Professional Kit with Moza Slypod allows you to achieve many different combinations of motorized movements with up to 7 lb loads, which is the payload of the AirCross 2 gimbal. The Moza Slypod is a 2-in-1 motorized slider and monopod that can be set up on a tripod to perform straight, inclined, and various other motorized movements. The travel routes are assignable via a companion app and can be set to different speeds. Attach the gimbal to the end and you add all the motorized movements of the gimbal to the mix, such as motorized panning motion. The Slypod can also be set up in vertical mode on a mini tripod or other support to provide vertical motorized movement. The gimbal can be attached in this mode as well. Other than all this, the two items can be used separately to great effect.
PRICE: $966.95
LOAD CAPACITY: 0.66 to 7.05 lb / 0.3 to 3.2 kg
WEIGHT: Gimbal: 2.09 lb / 950 g Slypod: 1.65 lb / 750 g
AVAILABLE FROM: B&H Photo
THE SKINNY: This bundle offer the advantages of pairing a gimbal a slider in one easy-to-use package.
TWO-HAND MOTORIZED GIMBAL STABILIZERS: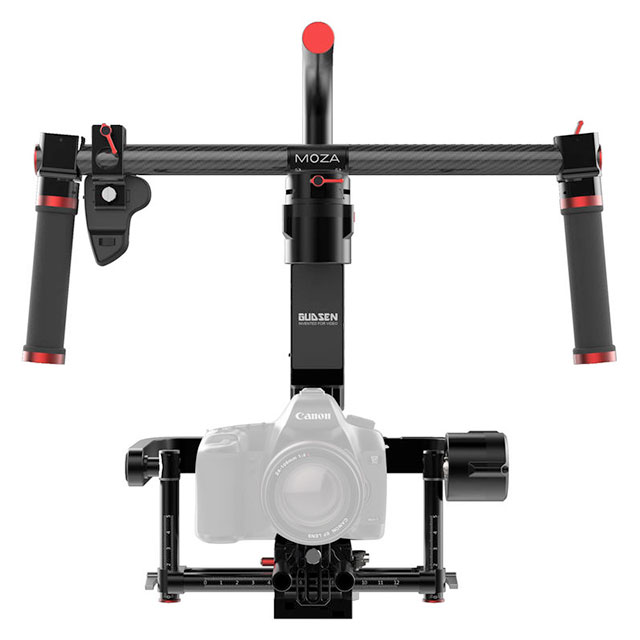 Moza Lite 2 3-Axis Motorized Gimbal Stabilizer makes it easy to capture smooth, stabilized handheld footage. Featuring a magnesium alloy frame, the motorized 3-axis gimbal weighs in at 4.8 lb and supports loads up to 8.8 lb, making it suitable for a wide range of mirrorless, DLSR, and compact cinema cameras. Three distinct operating modes lets users choose the mode the best suits the situation, with each mode offering follow and locked gibmal stabilization options. Adding to the stabilizer's versatility is a detachable handlebar that functions as a quick release system for easy assembly and disassembly, while facilitating attachment to a variety of platforms, such as tripods, cranes, rigs, and drones.
PRICE: $1,599 (Professional) | $1,299 (Premium) | $1,099 (Basic)
LOAD CAPACITY: 8.8 pounds
AVAILABLE FROM: B&H Photo | Amazon
THE SKINNY: With an impressive 8.8 pound capacity this 2-hand gimbal is available with three pricepoints depending of the level of features you need.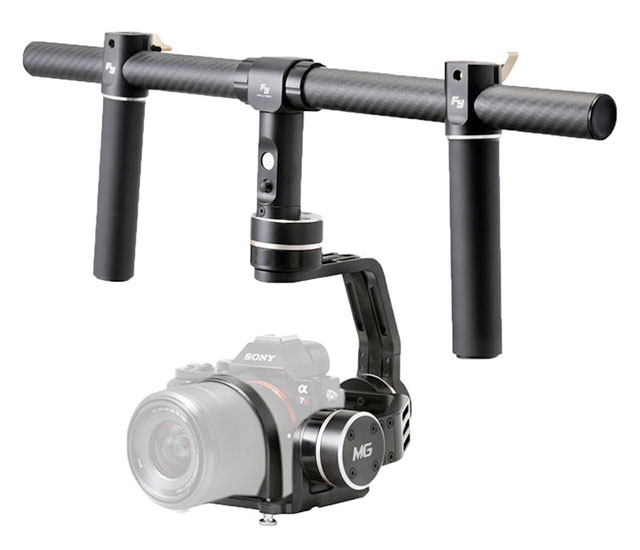 Feiyu MG 3-Axis Handheld Gimbal for Mirrorless Cameras is a handheld 3-axis motorized gimbal stabilizer designed to support loads between 0.77 to 2.36 lb, making it an ideal choice for mirrorless cameras such as the Sony a7 Series cameras. It features precision brushless motors that stabilize the camera along the pan, tilt, and roll axes to provide smooth footage free the typical jitters and shake of handheld shooting. Each axis can rotate a full 360° for unrestricted movement and angle adjustment. For added versatility, the MG includes two cross bar sections, two handgrips, and a handle that can be attached in several different ways, letting you switch between one-handed or two-handed configurations. It is operated using a single on/off and mode-select button, with a 4-direction joystick providing pan and tilt adjustments and control. You can also use the included wireless remote to control the gimbal from distances up to 49′ away.
PRICE: $659
LOAD CAPACITY: 2.36 pounds
AVAILABLE FROM: B&H Photo | Amazon
THE SKINNY: Looking for a budget two-hand stabilizer? Look no further.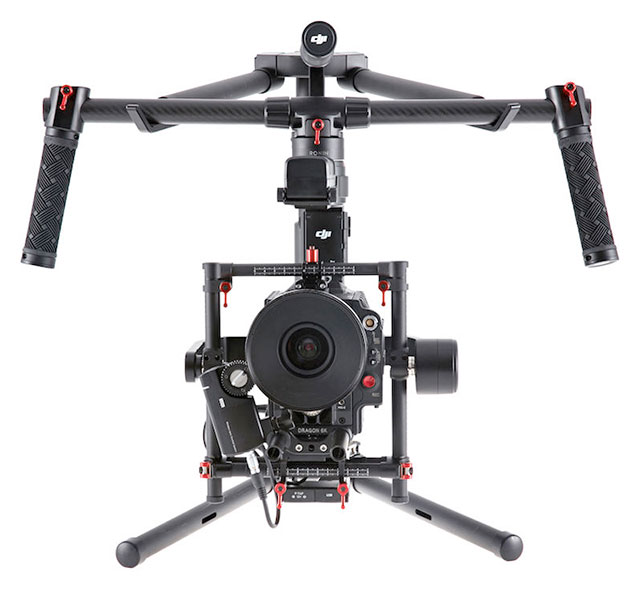 DJI Ronin-MX 3-Axis Gimbal Stabilizer is a dual-use gimbal suitable both for mounting on the Matrice 600 aerial platform as well as deployment closer to the ground. Improving over the Ronin-M, it features magnesium construction to yield high rigidity while keeping the weight down. The gimbal is suitable for cinema cameras, mirrorless cameras, and DSLRs weighing up to 10 pounds. Out of the box it supports two-operator operation, and includes a radio controller (transmitter) for the camera operator. There is also an optional Thumb Controller (available separately) for solo operation. When installed on the Matrice 600 aircraft, the gimbal can be controlled via the DJI GO app. An included universal mounting adapter allows it to be adapted for use with jibs, car mounts, and various other types of camera support equipment. There is also a handlebar for handheld use.
PRICE:$1,599
LOAD CAPACITY: 10 pounds
AVAILABLE FROM: B&H Photo | Amazon
THE SKINNY: The mid-size rig DJI mirrorless users have been asking for is finally available.
STABILIZER RIGS:
If motorized gimbals aren't your thing and you prefer to roll old-skool with a stabilizer that relies on counter-balance rather than motors, here are the rigs for you!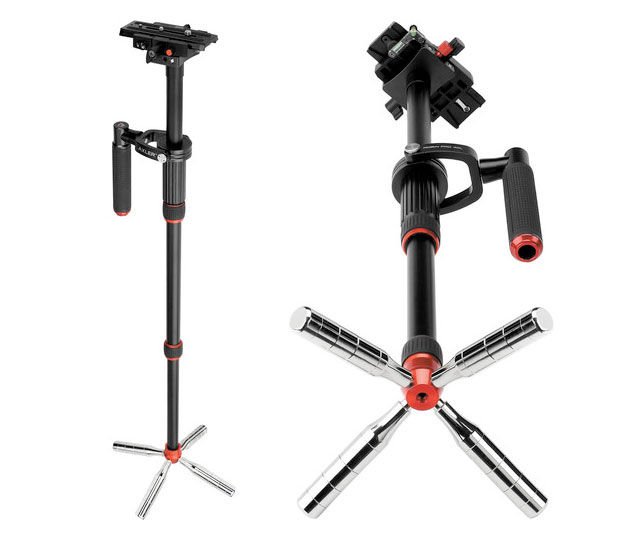 Axler Robin Pro 40 Stabilizer L helps you capture smooth, free-floating handheld shots with camcorders and camera rigs weighing up to 15 pounds. The system employs a height-adjustable gimbal and two-stage center column that adjusts from 25.5″ to 45″ for balancing heavier loads without increasing the weight of the stabilizer, letting you shoot for longer periods of time with less arm fatigue. Four segmented counterweights are included, which screw into sockets at the bottom of the stabilizer, providing weight compensation along two axes. Each counterweight consists of four separate pieces that screw into each other, letting you to add or remove weight along two axes as needed. This makes it easy to balance your camera rig even when the weight is unevenly distributed.
The camera platform features a quick-release plate with fine-tuning adjustment knobs to help achieve optimal balance. Once balanced, the stabilizer isolates the camera from your body movements, letting you walk or even climb stairs, all while capturing smooth, elegant-looking footage. A durable nylon carry case is included for easy storage and transport of the stabilizer and counterweights.
The stabilizer makes it easy to balance your camcorder or camera rig, even if the weight is unevenly distributed. Four segmented counterweights are included, which screw into sockets at the bottom of the center column and offer weight compensation along two axes. Each counterweight consists of four individual pieces that screw into each other, letting you add or remove pieces one at a time to adjust and fine-tune the system's center of gravity.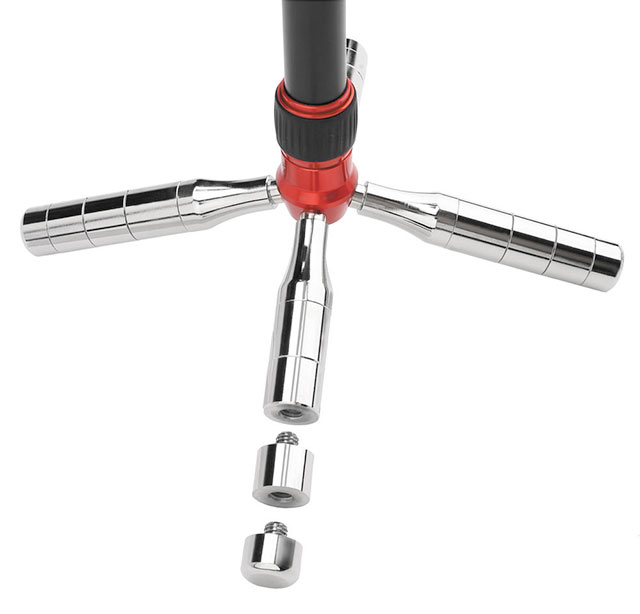 PRICE: $400
LOAD CAPACITY: 15 pounds
AVAILABLE FROM: B&H Photo | Amazon
THE SKINNY: If you're looking for an old-school non-motorized stabilizer – this rig from Axler is hard to beat for it's high degree of balanceability. The counterweights can even serve as a monopod base when you don't need to "fly".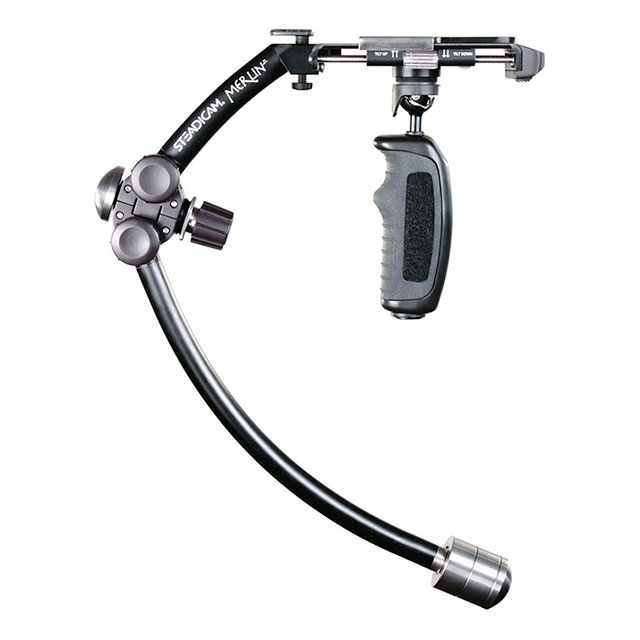 Steadicam Merlin 2 Camera Stabilizing System lets you go where the scene takes you–up or down steps, indoors and out, through crowds–almost without limitation. The Merlin 2 weighs just 1.4 lb and can handle cameras up to 5 lb in weight. It gives you precise, elegant control for dramatic, professional you-are-there footage. The quick-release mount lets you instantly switch between your stabilizer and any tripod. This system utilizes a metal gimbal for smooth camera movement.
PRICE: $270
LOAD CAPACITY: 5 pounds
AVAILABLE FROM: B&H Photo | Amazon
THE SKINNY: Designed for mirrorless cameras by the Mack Daddy of camera stabilizers.