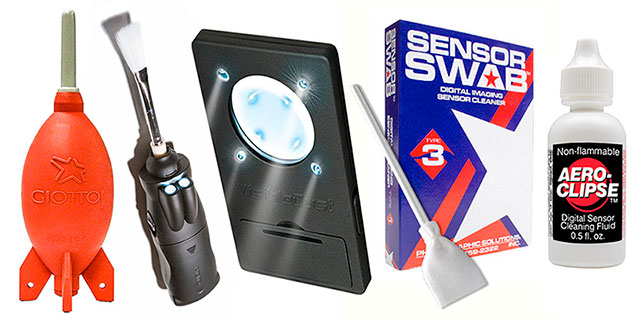 Got a dusty sensor? Don't despair. Follow these Five Simple Steps to clean your DSLR or mirrorless camera sensor to ensure your camera sensor stays clean and free of image-degrading dust. You'll rarely need to go all the way to Step 5, but follow the steps in this order.
But before we get started, first let me say a word about prevention. To avoid getting dust on your sensor when changing lenses always aim the camera downward so that any dust falls out – not into the camera. It's also a good idea to turn the camera off before changing lenses since an electrically charged sensor can attract dust.
STEP 1: CAMERA CLEANING MODE
If your digital camera has a sensor cleaning mode – and most do – try that before you do anything else. Remove the lens and aim the camera down so that any dust the cleaning mode dislodges falls out of the camera.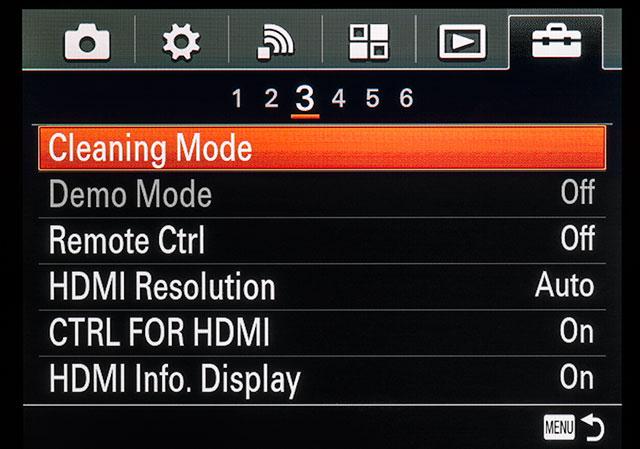 With any luck this will do the job and you're done. Sometimes this is enough to do the trick, yet while I'm at it I generally move on to Step 2.
STEP 2: AIR BLOWER
Never, ever, ever use canned, compressed air to blow dust off your sensor. The cans will release fluid when they are tilted, and that's the last thing you want to get on your sensor. Instead, I always use a Giottos Rocket Blaster (B&H). There are lots of bulb blowers on the market but this large bulb blower from Giottos is hands down the best.
It's great for getting rid of dust on your sensor. It uses a clean air path so that the dust that you are blowing away doesn't get sucked back into the ball and re-deposited on your equipment the next time you use it. Always point your camera down toward the ground when blowing off the sensor. That way, any dust you dislodge falls out of the camera.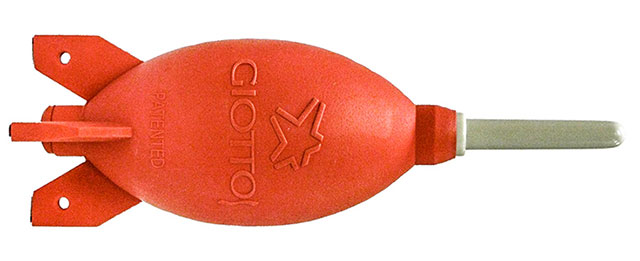 Giotto's Rocket Blaster dust-removal tool (Available from Amazon | B&H)
STEP 3: CHECK YOUR WORK
One of the most effective yet overlooked tools in any sensor cleaning kit is a a sensor loupe. They allow you to clearly see the dust, grime or other smutz and make certain you've completely cleaned it away. Lenspen SensorKlear Loupe (B&H) $50 in a Kit, VisibleDust Mini Quasar Sensor Loupe (B&H) $75 and VisibleDust BriteVue Sensor Loupe 7x (B&H) $98 are three great options.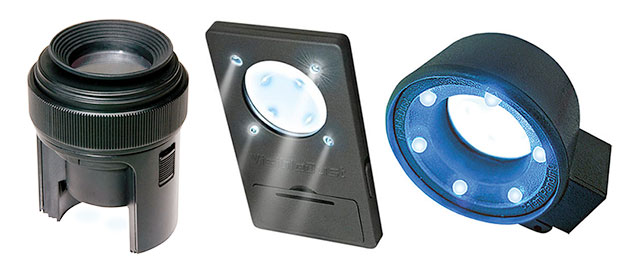 Lenspen SensorKlear Loupe, VisibleDust Mini Quasar Sensor Loupe & VisibleDust BriteVue Sensor Loupe
If you don't have a sensor loupe you can also shoot a test frame check if this cleared the problem, shoot a frame at F16 of a perfectly blank subject like a pure blue sky or a sheet of clean white paper. Download the image and inspect at 100% for any dust specs. This is not my preferred method since it requires a more trial and error to get it right – but with time and patience it will work.
STEP 4: SENSOR BRUSH OR SENSOR GEL STICK
If the Rocket Blower can't dislodge the dust, I move on to a VisibleDust Arctic Butterfly 724 sensor brush (B&H). This negatively charged brush helps pull dust particles off the sensor instead of just moving them around. Don't press down – allow the negative charge to attract the dust as you pass over the sensor. This version includes an LED light so you can see what you're doing.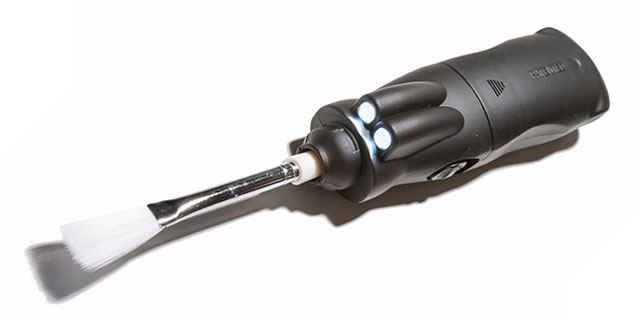 VisibleDust Arctic Butterfly 724 with Super Bright LED light (Available from B&H)
While I prefer using a Sensor Brush, some readers commented that they prefer to use a Sensor Gel Stick. Both the sensor brush and gel stick do the same thing so you don't need both unless you want to try them out to see which works best for you. These gel sticks both claim Sony-compatibility: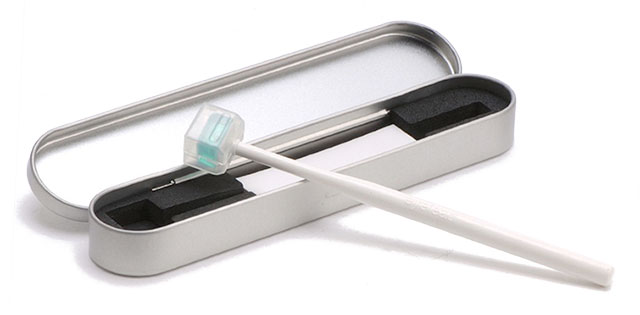 Eyelead Sensor Gel Stick (Sony version) (Available from Amazon)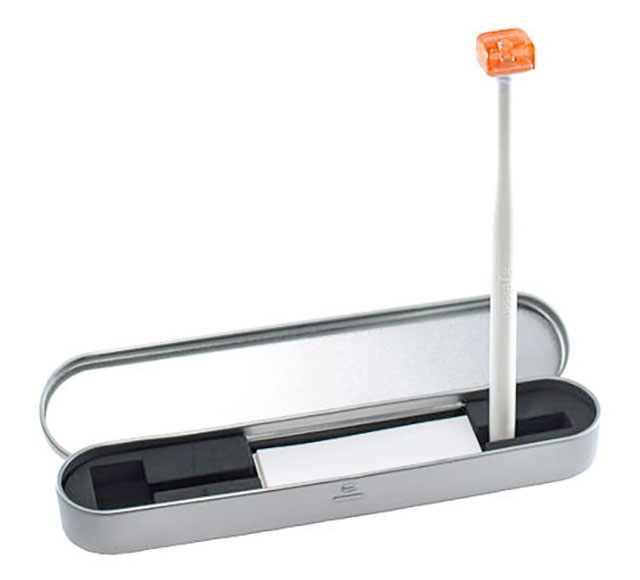 Sensor Gel Stick for Sony Cameras (Available from Photography Life)
Special Note to Sony a7 II, a7R II, a7S II, a7 III, a7R III, a9 & a6500 Users:
When cleaning cameras with IBIS using a Gel Stick or Sensor Swab, I suggest locking your sensor in place. To do this, simply run a cleaning cycle on your camera:
Menu > Setup > Cleaning Mode > Enter
The Sony a7 Mark II image sensor will shake for about a second. Once it's done you'll see this message on the LCD: "Auto cleaning is finished. Turn the power off. You can also clean the image sensor manually if necessary."
While this message is displayed the sensor is locked in place. This allows you to use a Sensor Gel Stick or Sensor Swab without moving the sensor. Once you're finished, turn the camera off.
BEFORE YOU CONTINUE: As I mentioned at the very start – only go as far into this process as you needed. THEN STOP! Wet cleaning should NOT be needed 99.9% of the time.
STEP 5: SENSOR SWABS
The first four steps will do the trick 99% of the time. But for really persistent sensor gunk that I can't get off any other way Photographic Solutions Sensor Swabs (Type 3 for fullframe sensors) (Amazon | B&H) or (Type 2 for APS-C sensors) (Amazon | B&H) slightly moistened with Aeroclipse Digital Sensor Cleaning Fluid (Amazon | B&H) will do the trick. These swabs are clean room manufactured and sealed for the ultimate in purity. Follow the manufacturer's directions. Brush across the sensor in one fluid motion using light even pressure. Then turn the swab over and brush across the sensor in the opposite direction.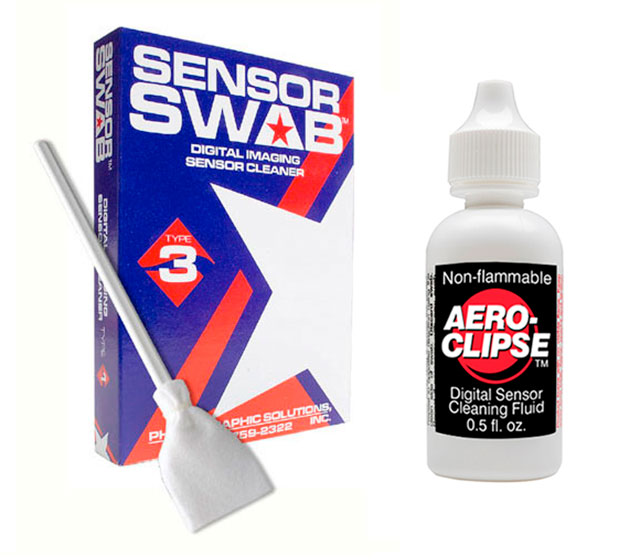 Photographic Solutions Sensor Swabs (Amazon | B&H) + Aeroclipse Sensor Cleaning Fluid (Amazon | B&H)
UPDATE: On April 8, 2016, Photographic Solutions issued a Warning Notice for Sony a7 users to discontinue using their Eclipse Sensor Cleaning Fluid:
NOTICE: We are recommending Aeroclipse for the Sony a7ii and a7rii. While Eclipse is safe with proper cleaning technique, it can remove the coating with prolonged cleaning and aggressive pressure. This is due to the pure concentration of methanol in Eclipse. Aeroclipse, to render it non-flammable, has considerably less methanol and is safe under all normal circumstances and proper technique.
This warning is most likely is specific to a7II & a7RII but since Aeroclipse is travel-safe I recommend that Sony a7 users follow the manufacturer's warning and switch to Aeroclipse Digital Sensor Cleaning Fluid which has the same cleaning power as Eclipse optic cleaning fluid but is non-flammable so it's travel-safe in checked or carry on baggage.