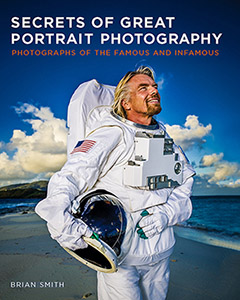 ORDER YOURS NOW
In this sexy, bold, beautiful book, photographer Brian Smith tells the stories behind the photos and lessons learned in 30 years of photographing celebrities and people in all walks of life. A Pulitzer Prize-winning photographer, Smith is the luckiest guy on the planet. He's told Bill Gates exactly what to do for an entire hour, had an exhibit at the Library of Congress, dined with the President and 3,000 of his closest friends, shared cupcakes with Anne Hathaway, and gotten drunk with George Clooney . . . all in the service of getting the perfect portrait.
In this juicy guide to shooting professional portraits, Smith shares his insider tips on connecting with people, finding the perfect location, telling a great story through portraiture, getting just the right pose, capturing emotion and gestures, arranging unique group shots, and getting just the right light. Throughout, you'll stay inspired by the breathtaking images included of the famous and infamous: Venus and Serena Williams, Gene Hackman, Cindy Crawford, Donald Trump, Bill Gates, The Bee Gees, Antonio Banderas, Shaquille O'Neal, Don King, Anne Hathaway, Ben Stiller, Sylvester Stallone, and others.
You might not be shooting the rich and famous yourself, but after reading Smith's tell-all books on portrait photography, you'll know how to make every person who makes their way in front of your camera look and feel like a celebrity. READ MORE
Secrets of Great Portrait Photography is available from Amazon, Amazon UK, Amazon Canada, Barnes & Noble, Indigo Canada and in Miami at Books & Books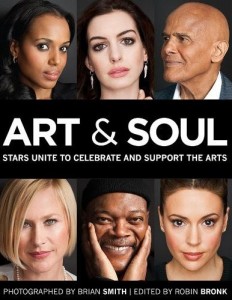 ORDER YOURS NOW
'ART & SOUL: STARS UNITE TO CELEBRATE AND SUPPORT THE ARTS' was photographed in partnership with The Creative Coalition, through generous support from Sony. ART & SOUL features Brian Smith's portraits of 123 artists from the entertainment industry accompanied by handwritten personal testimonials from each artist expressing the importance of the arts education in our culture and the positive impact the arts has on our lives. The project has been exhibited at the Library of Congress, SNAP! Orlando and the W Los Angeles.
Artists photographed for ART & SOUL include Adrian Grenier, Adrien Brody, Alan Cumming, Alfre Woodard, Alyssa Milano, Amanda Peet, Anne Hathaway, Barry Bostwick, Ben Vareen, Chazz Palminteri, Cheryl Hines, Chris Botti, Dana Delany, David Hyde Pierce, Debi Mazar, Dule Hill, Eddie Griffin, Jr., Ellen Burstyn, Evan Handler, Fisher Stevens, Harry Belafonte, Hill Harper, J. Alexander, James Denton, Jamie Kennedy, Jason Ritter, Jesse Williams, Joe Mantegna, Joel Schumaker, Josh Radnor, John Turturro, Kelsey Grammer, Kerry Washington, Lynn Whitfield, Marlon Wayans, Matthew Modine, Melissa Manchester, Oliver Platt, Omar Epps, Patricia Arquette, Paula Abdul, Peter Gallagher, Richard Belzer, Samuel L Jackson, Spike Lee, Steven Weber, Taraji P Henson, Taye Diggs, Tim Daly, Tony Bennett, Wendie Malick and Zooey Deschanel.
ART & SOUL is a wonderful way to support the arts. A generous portion of the proceeds from the photo books will go to advocacy of arts funding by The Creative Coalition, a nonprofit, nonpartisan social and public advocacy organization of the arts and entertainment community. Founded in 1989 by prominent members of the creative community, The Creative Coalition is dedicated to educating its members on issues of public importance. READ MORE
Art & Soul is available from Amazon, Barnes & Noble, Amazon UK, Books & Books