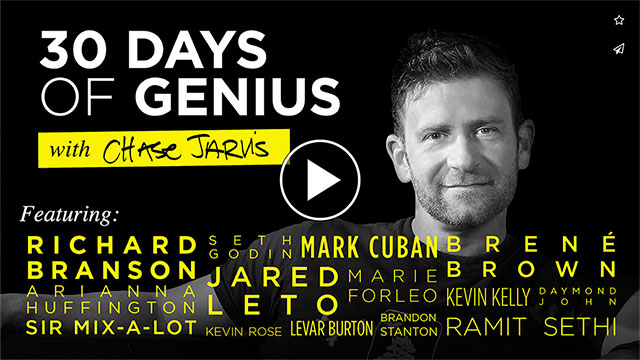 CreativeLive is offering an exciting, free video series featuring 30 of the best, brightest and most creative minds. Time is running out to sign up for FREE!
Join renowned photographer and CreativeLive Founder, Chase Jarvis as he interviews people such as Richard Branson, Jared Leto, Arianna Huffington, Brené Brown, Tim Ferriss, Mark Cuban, Seth Godin, Brian Solis, Gary Vaynerchuk, Sir Mix-A-Lot and 20 other successful, world-class achievers. This is an event you won't want to miss.
In this free video series, you'll learn about the big thinking and breakthroughs that allowed these geniuses to break the mold. They'll share their successes and failures, and turn them into actionable insights.
How to Sign Up for 30 Days of Genius:
1. Go to 30 Days of Genius at CreativeLive
2. Watch your inbox for an interview with a new genius every day for the next 30 days. You'll get the first video the day after you sign up.
3. Watch the videos daily, or at your own pace – whenever you want insights or inspiration.
4. Repeat. (And share this series with anyone you'd like)
Win Genius Mentorship for a Year
When you sign up, you'll automatically be entered to win a year's worth of personal mentoring from Chase Jarvis and 4 of the guests from 30 Days Of Genius (guests will be chosen by CreativeLive). They'll check in with you via phone or Skype to help you set goals for your life and career. Together, you'll map out a plan for achieving those goals, and they'll hold you accountable for putting it into action. [Official Rules Posted at CreativeLive]