Sony has posted firmware updates for the Sony A7 and A7R cameras on their website that update camera firmware to version 1.02. Please read all and follow the directions on the Sony website regarding firmware updates.
This utility updates for the ILCE-7R and ILCE-7 camera firmware to version 1.02 and provides the following benefits:
Provides support for the SEL70200G lens
– Improves auto focus speed
– Supports the "Fast Hybrid AF" function (ILCE-7 ONLY)
– Supports future compatible E mount lenses
– Adds the "Focus hold button" function
Reduces start-up time when the camera is switched on immediately after being switched off
Improves image quality
Provides support for additional PlayMemories Camera Apps and adds additional features
– Supports the "Liveview Grading" and "Smooth Reflection" applications
– Supports the smooth automatic exposure feature in the "Time-lapse" application ver. 2.00 and later
Read Sony's Firmware Update Instructions VERY Carefully
Make certain you have a fully charged battery in the camera or that it's connected to A/C power before attempting to update firmware in any camera. Put camera into Mass storage mode:
Menu > Settings 4 > USB Connection > Mass Storage
Please follow the updater directions very carefully. Make sure all other programs are shut down, programs like Mail and iTunes. Close everything else down. PLEASE!
If you're a Mac user running 10.9 Mavericks, you should run the firmware updater in 32-bit mode. You can do this by right-clicking (ctrl-click) the firmware updater icon to get info, and checking the "Run in 32-bit mode" option.
1. Connect the camera to your computer using the USB cord that came with the camera.
Click Next.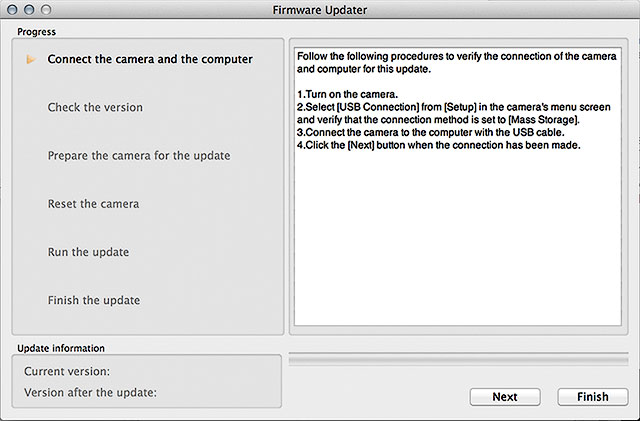 [PLEASE NOTE: If you get this error message don't freak out. It doesn't mean you've "bricked" your camera.]
Simply follow the directions. Turn off your camera and remove the battery. Put the battery back in and turn the camera on. Reboot the software and start over.


2. Once the connection is made, the updater will compare update with installed firmware.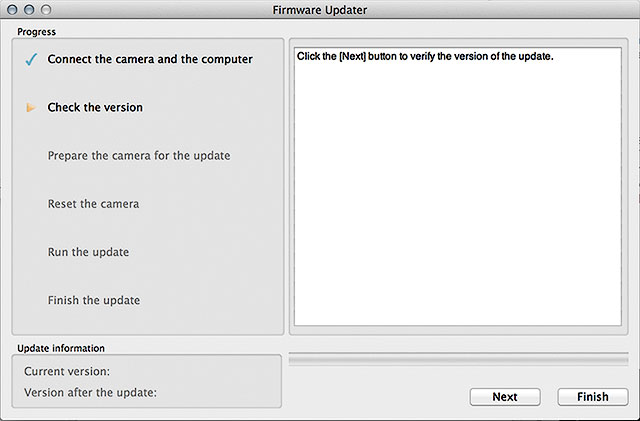 3. Updater will show if firmware version is ready to update. If you hit a glitch here, follow to directions on your screen.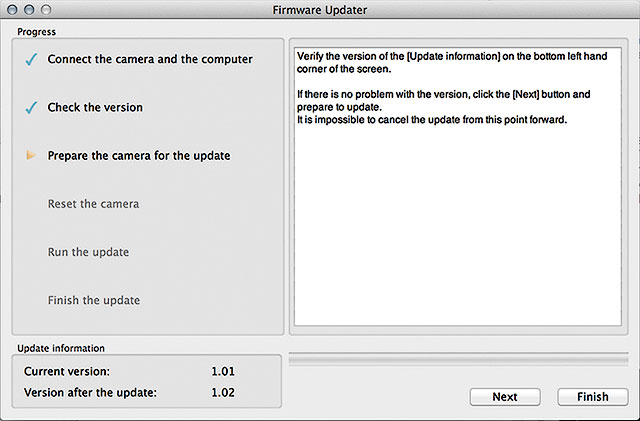 4. Make certain all other programs are shut down and that you have a secure connection. It's very important that you don't lose your connection here, so while running this step DON'T EVEN TOUCH THE COMPUTER UNTIL UPDATE IS FINISHED!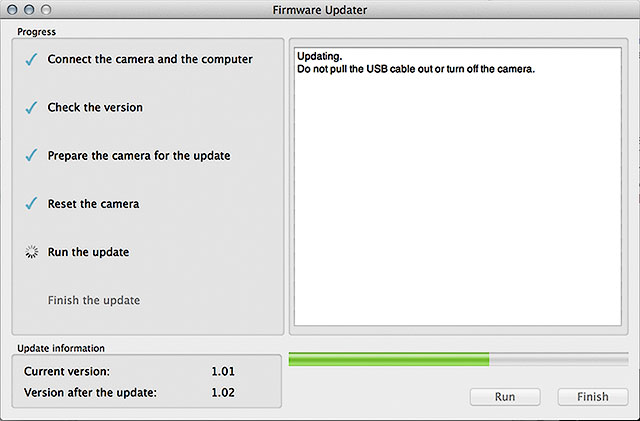 5. Update in complete. You can eject the camera and you'll be ready to go. Check to see if any camera settings need to be restored.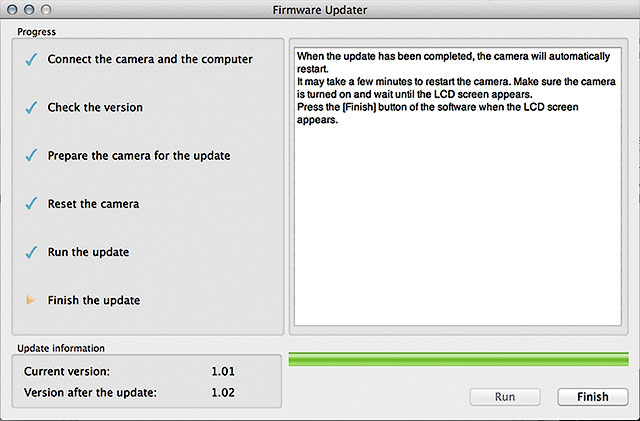 Sony A7R Camera Firmware Update
Mac – Sony US, Sony Germany, Sony UK, Sony France, Sony Spain, Sony Italy, Sony Holland, Sony Belgium, Sony Austria, Sony Switzerland, Sony Finland, Sony Sweden, Sony Norway, Sony Portugal, Sony Australia
Windows – Sony US, Sony Germany, Sony UK, Sony France, Sony Spain, Sony Italy, Sony Holland, Sony Belgium, Sony Austria, Sony Switzerland, Sony Finland, Sony Sweden, Sony Norway, Sony Portugal, Sony Australia
Sony A7 Camera Firmware Update
Mac – Sony US, Sony Germany, Sony UK, Sony France, Sony Spain, Sony Italy, Sony Holland, Sony Belgium, Sony Austria, Sony Switzerland, Sony Finland, Sony Sweden, Sony Norway, Sony Portugal, Sony Australia
Windows – Sony US, Sony Germany, Sony UK, Sony France, Sony Spain, Sony Italy, Sony Holland, Sony Belgium, Sony Austria, Sony Switzerland, Sony Finland, Sony Sweden, Sony Norway, Sony Portugal, Sony Australia
Sony also released firmware updates for the NEX-6, NEX-5T and NEX-5R cameras:
Sony NEX-6 Camera Firmware Update
Mac – Sony US, Sony Australia
Windows – Sony US, Sony Australia
Sony NEX-5T Camera Firmware Update
Mac – Sony US, Sony Australia
Windows – Sony US, Sony Australia
Sony NEX-5R Camera Firmware Update
Mac – Sony US, Sony Australia
Windows – Sony US, Sony Australia